Episodes
Wednesday May 20, 2020
Wednesday May 20, 2020
Shop updates. Chris takes delivery of his UMC-500. Winston lights up Skeloko Datron-style. Eddie gets to work on his first big commercial job for the Neo. The workholding ecosystem for hobby-class CNC machines is looking promising. Saunders Machine Works introduces a sweet new aluminum fixture plate for the Shapeoko.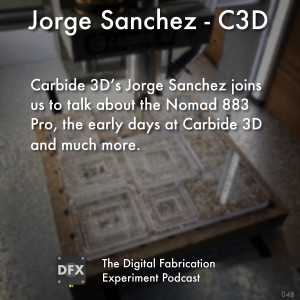 Wednesday May 06, 2020
Wednesday May 06, 2020
Carbide 3D's Jorge Sanchez joins us to talk about the Nomad 883 Pro, the early days at Carbide 3D and much more.
Links:
Carbide 3D - https://www.carbide3d.com